Questo Cuneo automatico armatura inseritrice viene utilizzato per inserire il cuneo nella fessura di armatura, in modo da isolare l'armatura. Macchina possa essere personalizzato secondo le diverse esigenze del cliente.
Parametro tecnico del cuneo inseritrice
| | |
| --- | --- |
| Outside Dimension | 910*880*1300(L*W*H)mm |
| Equipment Weight | 250 Kg |
| Motor Power | 0.75 Kw |
| Work Voltage | 380 VAC |
| Work Air Pressure | 0.4-0.6 hMp |
| Manufacturing Product | Motor Rotor Insulated Paper |
| Rotor O.D. Range | φ20-φ55 |
| Length of Insulation Paper | 15-60 mm Adjustable |
| (MAX) Width of wedge | 25 mm |
| Rotor Slot number | 8-24 slots |
| Work procedure | Feeding-install fixture-plug in discharge |
| Fixture | Pneumatic Mechanical Fixture |
| Feeding form | Automatic |
| Lubricant form | Grease lubrication |
Rotore fatto da questa macchina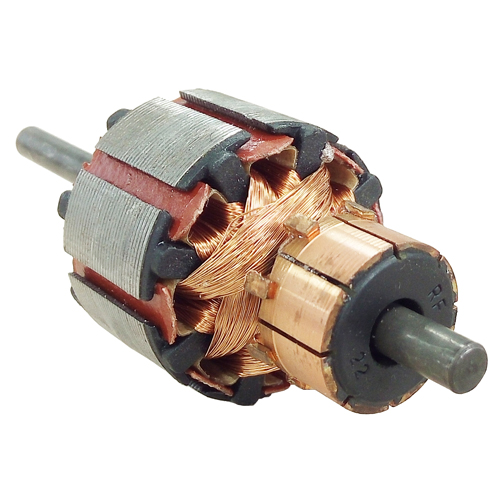 Risoluzione dei problemi e malfunzionamenti
Malfunction

Check

A.Equipment not run even press start button

n Power and air supply

n Make sure all input signal from sensor are correct, travel switch (X10) is pressed, no signal from counter sensor (X2), push bar protector (X7) and no paper sensor(x6) and full feeding (X4). Also, there is signal from the mechanic hand (X0) and magnetic sensor (X1) of small cylinder.

n Brake is power off or not

n The feeding sensor(X3) should have signal if there is rotor on the guide way.

n Check cylinder and air pipe, make sure the pressure is between 0.4 and 0.6MPa

B. Fail to feed paper

n Check whether the paper is jammed in the feeding or discharging part, whether the upper press wheel is down pressed

C. No action or improper action in big cylinder

n Make sure the air pressure is 0.4 -0.6MPa

n Check whether the magnetic valve is functional.

n Adjust the release valve of feeding cylinder to 0.3 Mpa

D. Incorrect work indexing

n Adjust indexing screw

E. No action in small cylinder

n Check whether the mechanical valve is down pressed.

F. The position is not correct after reset

n Adjust the counter sensor screw and make sure it is on the right position after reset.

G. Paper jam

n If it was blocked in the forming tooling, the equipment would stop because of the protective switch on duty. If it was blocked behind the upper press wheel, press the stop button, now the mechanical hand still hold the rotors, press the single/automatic button to adjust it to manual, the mechanical hand will release the rotor, then take out the paper, and reset, adjust the button to automatic, and start the equipment.
Prima dell'operazione
(1) confermare la spedizione base lista di imballaggio dopo il disimballaggio e controllo se i pezzi di ricambio essendo danneggiati durante il trasporto o non. Solo può essere utilizzato dopo essere stato installato e ben eseguito il debug dal nostro tecnico.
(2) per farlo funzionare normalmente e garantiscono durata, la tensione di ingresso dovrebbe essere AC 380V (tolleranza + /-10%), e la pressione dell'aria deve essere compreso tra 0,4 e 0.6Mp.
(3) messa a terra affidabile protezione è necessaria.
(4) non aprire la porta o la guardia di sicurezza quando la macchina è in esecuzione o parzialmente arrestare, mettere la mano o altre parti del corpo nella macchina
(5) si noti il funzionamento della macchina, smettila immediatamente quando trovare eventuali condizioni anomale. Solo l'anomalia è risolta la macchina può essere eseguita nuovamente.
(6) l'interruttore deve essere impostato sullo stato di singola azione quando si verifica o manutenzione l'apparecchiatura e l'alimentazione dovrebbe essere spenta.
Elenco prodotti : Macchina di fabbricazione di armatura > Inseritrice di Cuneo